We love our cats and, let's be honest, we love buying new things for them.
There are many reasons a collar is a great investment whether it's for improved visibility or simple identification purposes a collar is a simple way to help keep your cat safe.
---
In a rush?
Here are the best cat collars we could find on Etsy (affiliate links):
---
Finding the best collar for your cat doesn't have to be a challenge.
There are loads of high-quality collars to choose from and in this article, we have reviewed some of the best. No matter what type of collar you are looking for this guide will help.
Best Cat Collars:
The best cat collars are comfortable, adjustable and safe.
We have found the best cat collars available on Etsy as the site has many unique, high quality, handmade products at great prices.
These collars not only look wonderful, but they are also very durable and made with love.
1. Best All-Rounder

Click image to view on KittyCollarsShop Etsy store
The best all-rounder collars are these personalized soft collars. They are recommended by Cats Protection and UK Vets and you can print whatever you'd like on the collar (e.g. your photo number, "do not feed", "diabetic" etc.).
There are 11 collar colours to choose from and you can enter your own chosen text (up to 24 characters for kitten sizes and up to 30 characters for adult sizes).
You can also include a matching bell as an optional extra.
The collars are handmade and can make it a lot easier for people to assist if your cat gets lost or needs help. You can also get information printed on the inside if needed.
The quick-release clasp makes sure your cat can get away if the collar ever gets caught on anything.
As you can print the message directly on the collar it means you do not need a tag which is something that can easily get caught on things. Some cats prefer collars without tags too as they can find tags annoying.
2. Most Stylish cat collar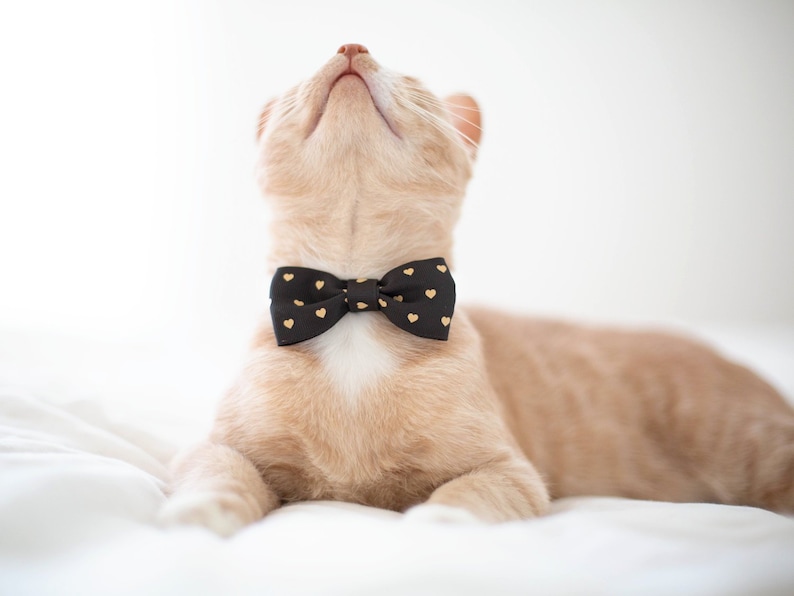 Click image to view on the KattandHound Etsy store
There are loads of stylish, handmade cat collars on Etsy but this bowtie collar takes the title of most stylish.
The collar is a smart charcoal grey colour, has an adorable heart print and includes a bowtie of the same design. Let's be honest, there are not many things that are cuter than seeing your cat in a bowtie.
Although this collar does not come with individual size options, the length is fully adjustable from 18-30cm so you can easily ensure it is the perfect size for your cat.
As well as being adjustable, there is also a safety quick-release buckle.
The materials used for these collars are high-quality, they are made from soft polyester and for added durability they are finished with an eco-friendly, non-toxic and vegan Liquiproof which protects the fabric.
Another good thing about this design is that the bowtie isn't stiff so it won't be uncomfortable or annoying for your cat to wear.
There is also an option to include a brass bell if desired. This collar will have your cat looking smart, stylish and sophisticated (not to mention very cute).
3. Best Quick Release cat collar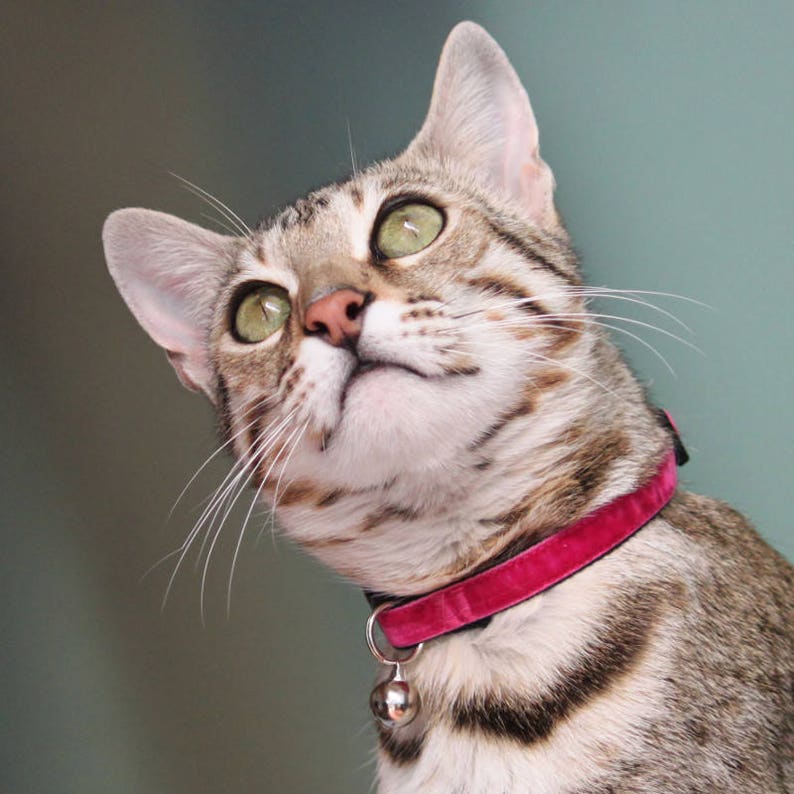 Click image to view on the CoolCatCollarsUK Etsy store
These luxury velvet cat collars are handmade in the UK. They have a quick-release safety buckle to ensure your cat is safe and doesn't get stuck anywhere.
This is the best quick-release collar available as it is both comfortable and safe for your cat with its quick release buckle, nylon webbing interior and soft velvet exterior. The collar is strong and easy to keep clean.
We particular like all of the options available, you can choose between 21 colours and 3 sizes. The collars come with a D ring with a bell and you can easily attach an ID tag if necessary. The bell is also easily removable if you do not need this feature.
These collars are fully adjustable so you can ensure it is comfortable for your cat. The collars are between 6 – 14 inches and are separated into three sizes; kitten, cat and XL.
4. Best Reflective cat collar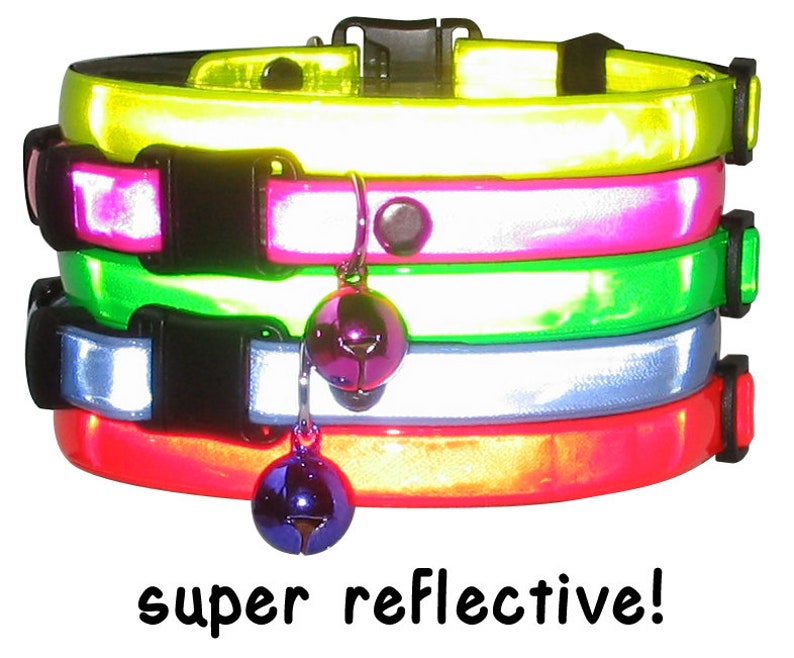 Click image to view on the KittyCollarsShop Etsy store
This Super Reflective Cat Collar is perfect for keeping your cat safe at night. There are 6 colours to choose from and you can choose whether or not to include a matching bell too.
These handmade collars are high quality, very reflective and stand out when headlights shine towards them. They also have a quick-release breakaway clasp meaning the collar will release if it gets caught on anything making sure your cat is safe.
The design is fuss-free and looks good, it doesn't come with a tag as tags can be annoying for cats and they can get caught on things too.
There is a range of colours available which is great to see. These collars are adjustable and are suitable for necks measuring 17-27cm which tends to be a good fit for cats older than 6 months.
If this isn't suitable for your cat they also offer customized sizing if you get in touch with the seller.
5. Best Cat Flea Collar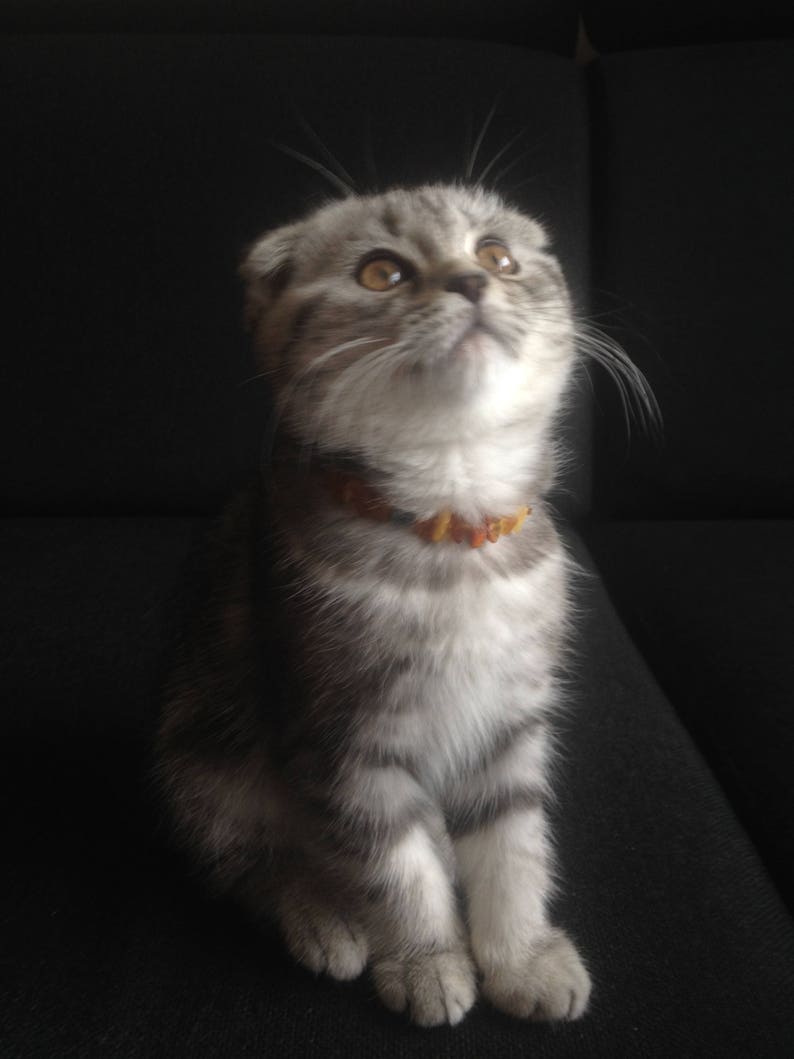 Click image to view on the petsamber Etsy store
These Baltic amber pet collars offer natural protection against fleas. They look good and are a type of collar that is increasing in popularity as they are natural and chemical-free.
There are a few reasons this natural amber is effective for repelling parasites including fleas and ticks.
Amber has electrostatic properties so when the collar rubs against your cat's fur it naturally generates electricity making it almost impossible for parasites to cling to your cat's hair.
The amber also has a smell that appears to repel fleas and ticks, the longer your cat wears the collar the more effective it can be as the warmth of your cat will cause more of the natural odour to be released.
It is best to use a flea collar in addition to another flea treatment rather than as an independent solution.
6. Best Novelty cat collar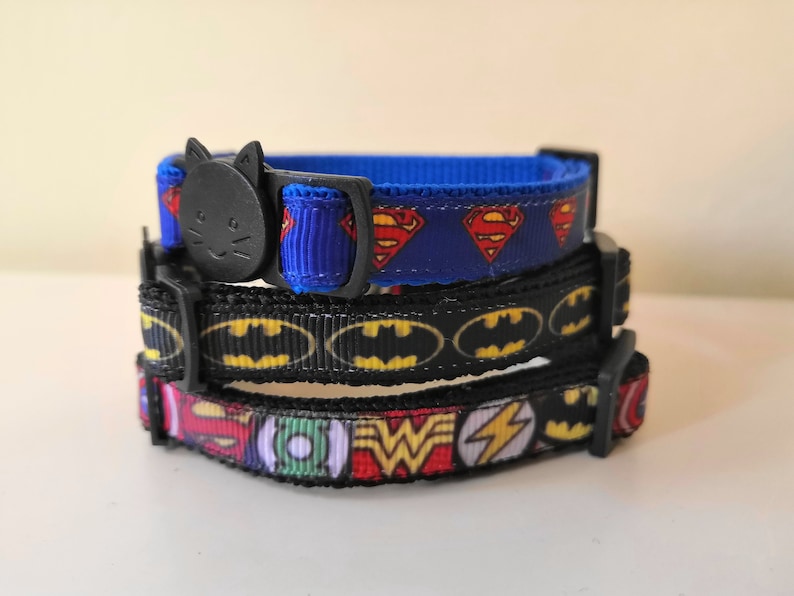 Click image to view on the PoshPawsUK Etsy store
If you're looking for something a little different for your cat, this superhero collar is worth considering. It's a great option for family cats, especially if you have children around. These collars are bright, fun and available in 3 designs.
There is a choice of a black and yellow batman collar, an eye-catching blue and red superman collar or one with a mix of hero logos.
These handmade collars are of high quality and are fully adjustable. They are made with industrial-strength polypropylene webbing, have a D ring for the included bell and a quick-release safety buckle. The safety buckle has a cute cat face which is great attention to detail.
The fully adjustable collar can fit neck sizes between 19cm-27cm and is 10mm wide. As these collars are handmade you can also ask for the collar to be made to a certain size if required. This novelty cat collar makes a great gift too.
7. Best LED cat collar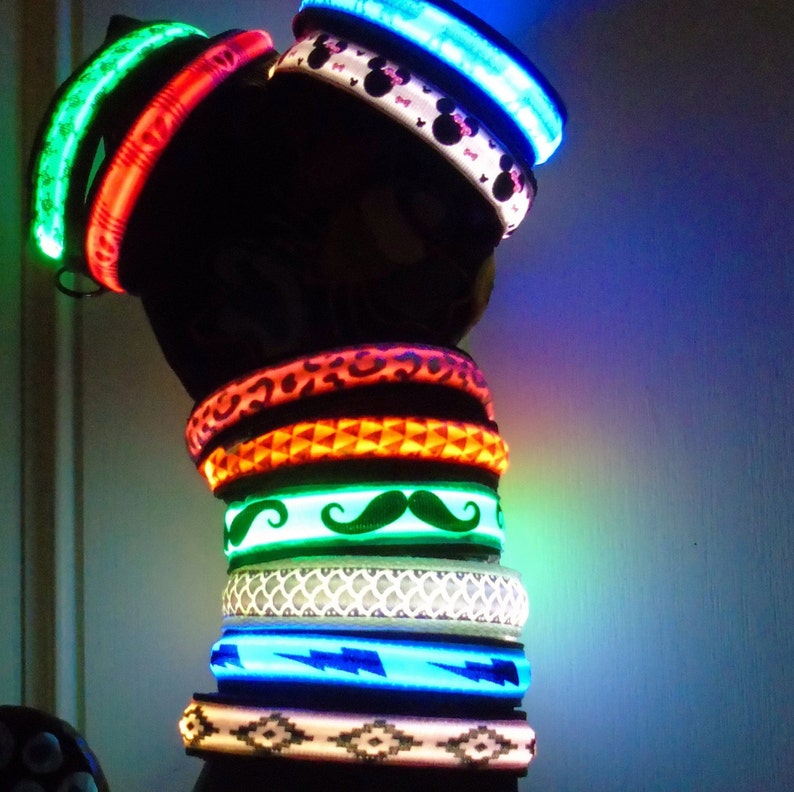 Click image to view on the bellaTAZ Etsy store
These LED light-up collars are both smart and stylish. Some light up collars can feel bulky but these are lightweight and comfortable so they can be worn anytime by your cat.
The set comes with replaceable 3v lithium batteries, an ID tag ring and a bell. It includes a break-away buckle as standard but there is an option to switch this for a standard release buckle if necessary.
The small LED cat collar is available in a range of colours, designs and styles so you can choose the one best suited to your feline friend.
The battery box has the power switch and when turned on the light settings include a steady light, fast flashing or slow blinking lights.
These collars are perfect for ensuring you can see your cat in the dark while also being fun and stylish.
Some of the design choices include Aztec tribal, hearts, anchors, and feathers but there are plenty more to choose from. 
---
Buyers Guide To Cat Collars
There's a lot of choice when it comes to cat collars, some are stylish, some are practical and some offer the best of both worlds.
Before choosing a collar think about the reasons you need a collar, for example; identification purposes, extra visibility during the night or to help with fleas.
If you are looking for a collar as you want to take your cat for a walk, check out these cat harnesses too as they are perfect for walking your cat. When selecting a collar, consider the following features:
Quick Release Buckle
A quick-release or breakaway buckle is an extremely important safety feature as cats are curious creatures and it doesn't take much for them to get themselves into sticky situations.
A quick-release collar will pop open when pressure is applied meaning if the collar gets snagged on something it won't choke or trap your cat as they will be able to escape.
Comfort
As a collar is worn by your pet most of the time it needs to be comfortable and a good fit. An extra-wide collar or one that is bulky and heavy won't be comfortable for your cat.
Identification
There are a couple of different options when it comes to identification, some collars offer the ability to display the necessary details along the length of the collar through print or embroidery while others have D or O rings to attach ID tags.
Durability
A good quality collar can last for years. Collars are commonly made from cotton, polyester or nylon webbing, all of which are sturdy options.
Adjustability
The collar needs to be adjustable so you can ensure it fits your cat properly and is secure. If you are putting a collar onto a kitten then check the size every week so you can adjust the size as the cat grows.
Visibility
Bright colours are fun and help you keep an eye on your cat. They can be especially useful if your cat spends time outside as it can also help to warn birds of your cat giving them a chance to escape.
Reflective collars are great for when cats spend time outside during dusk, dawn and at night. A reflective cat collar can help warn motorists of their location and can also be a big help for owners when searching for their cat at night.
Bells
Many collars come with the option of including a bell, these bells are great for helping owners keep track of their cat and can play a role in preventing cats from being able to stealthily sneak up on cats.
How to Put a Collar on a Cat
If your cat has never worn a collar before then you need to let them get used to the collar first. Before you put it on, let your cat sniff and investigate the collar, it might help to make the collar smell like your cat by rubbing it with your cat's blanket or bedding.
Once your cat has investigated the collar and seems comfortable you can put the collar around their neck.
Make sure you talk to your cat in a calming voice and offer them a treat when the collar is on – this will help your cat associate the collar with positive experiences.
The collar should be secure but there needs to be enough slack to slide two fingers between the collar and your cat's neck.
Top Tip:
If your cat has not worn a collar before, remove the tags and bell as these can make it more difficult to acclimatize your cat to the collar. Once your cat is completely comfortable with wearing the collar then you can add the bell or ID tags.
After a few minutes, you can take the collar off. Each day you should leave the collar on for longer until your cat is completely happy and comfortable wearing it. Remember to keep rewarding your cat when they are wearing the collar.
When your cat is used to wearing the collar, don't forget to check the fit regularly as your cat may lose or gain weight.
A collar that is too loose will easily come off and can allow the cat to get their leg or jaw stuck and a collar that is too tight will squeeze (and even cut) their neck and will be very uncomfortable.
Check the fitting often and make adjustments as necessary.
How Tight Should a Cat Collar Be
A cat collar needs to be firm but you need to be able to snugly get 2 fingers underneath.
Many collars are fully adjustable which means they can be used for many cat breeds and cat sizes.
Some manufacturers also offer customized made to measure cat collars. For these custom collars, you will need to measure your cats neck with a tape measure.
It is really important to get the fit of a cat collar right for the safety and comfort of your cat.
If a collar is too loose your cat may try to get it off which could lead to their paw or jaw getting caught under the collar.
Remember, if your cat is still growing you will need to regularly check the fit of the collar to make sure it does not become too tight. Fortunately, most collars are quick and easy to adjust.
As an Amazon Associate I may earn a small fee from qualifying purchases at no extra cost to you. This helps us run the site, so thanks for your support!